Accueil Vélo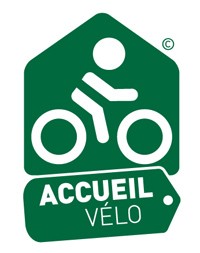 Accueil Vélo is a national label, guaranteeing quality welcome and services along cycling trails for the cyclists.
Accueil Vélo, it's the guarantee for the cyclist to :
Be less than 5km from a cycling trail
Have acces to adapted equipment for cyclists : secured bike shed, repair kit.
Enjoy a warm welcome, with relevant informations and advice (routes, weather, ...)
Have access to adapted services to cyclists : baggage transport, laundry, bike rental, bike cleaning, ...
The national label Accueil Vélo is implemented under the aegis of France Vélo Tourisme by the local touristic institutions, in order to ensure the best welcome for cyclists everywhere in France.
In labelled accommodations, cultural sites, tourist offices, or bike rental/repair shops, "Accueil Vélo" is a true quality repository of services relevant to the needs of cyclists.
The reception is adapted and considerate (internet, weather informations, advices on routes and places to visit ...). In accommodations, cyclists have access to complete repair kits, baggage transport services, bike cleaning equipments, taxi reservations ... And even, in some cases, a specific breakfast for cyclists.
The procedure to be granted the label Accueil Vélo :
1. Accueil Vélo Repository : send a request by mail to the local evaluating institution
2. Assessing visit, to ensure the location respect the criteria of the quality repository.
3. If the assessment is positive, a 3 year long authorisation to use the label Accueil Vélo is granted.
4. The contract is signed.
To consult the list of labelled locations, click HERE
https://www.destination70.com/itinerance/velo/prestataires-accueil-velo.html
The "Réseau VAE" (electric bike network), what is it ?
Réseau VAE is a label, complementary with the « Accueil Vélo » label, created specially for electric bike users with 3 main objectives :
The guarantee of a welcome suited to electric bike users
The guarantee to be able to recharge freely your electric bike, so you can trace your route accordingly, with frequent relay points.
The proximity of activities as you wait for the bike to recharge (leisure area, restaurants, places to visit, ...)
List of labelled locations, downloadable HERE
If you are a touristic provider and want to join the network :
You can join the network and promote your establishment through a service sought by electric bike users ! To become a "Réseau VAE" labelled location, contact us at 03 84 63 22 80 or by email : contact@les1000etangs.com