In a land still wild, the Plateau des 1000 Étangs, covered in deep forests and still waters, is an invite to wonderful jaunts : a world outside of time, almost mystical.
Further East, the Planche des Belles Filles, mythic Tour de France finish line, challenges the steep slopes seekers. All around it, forest, countryside and the first heights of the Vosges mountains put to the test mountain bikers, runners and horse riders.
Above the small town of Ronchamp, LE CORBUSIER, taken by the beauty of the place, built the Chapelle Notre Dame du Haut, one of his seventeen architectural piece on the UNESCO world heritage list.
Hikers can follow the path of Saint Colomban, founder of Luxeuil Abbey. His voyage, from Ireland to Italy, is ponctuated by monasteries he founded.
Luxeuil-les-Bains, spa town with a remarquable heritage, sharpens the senses by proposing thermal and fitness cures, or the baroque creations of Musique et Mémoire in the basilica.
Nearby, starting in the spring, you can walk barefoot on the paths of the Parc à l'anglaise "La Cude", admire the cherry blossoms … and follow them to the distilleries of Fougerolles, where they're transformed into kirsch or Griottines.
Further West, the glass and crystal works of La Rochère focus its delicate know-how. On the opposite side, the Fort du Mont-Vaudois, near Belfort, shows its formidable architecture.
The bodies of water in Lure and Champagney call for idleness or the pleasures of water games. In the rivers, lakes or ponds, we fish out of passion. In Belfort, the majestic Bartholdi Lion (22 meters long, 11 meters high) keeps watch on the city since 1880. On the crossroad of the regions Bourgogne-Franche-Comté and Grand-Est, the Ballon d'Alsace, highest point of the Vosges du Sud (1247 m), offers an unforgettable 360° viewpoint.
The Tourist Offices in the Vosges du Sud destination :
Tourist Office of the 1000 Étangs - Mélisey and Faucogney
03 84 63 22 80
Tourist Office of Luxeuil-les-Bains - Luxeuil and Fougerolles
03 84 40 06 41
Ronchamp Tourisme
03 84 63 50 82
https://www.ronchamptourisme.com
Tourist Office of the Pays de Lure
03 84 89 00 30
Explore the area with the Passeport Tourisme & Loisirs
Since April 1st 2018, visit smartly with the Passeport Tourisme & Loisirs Vosges du Sud ! In 2019, it even extended with the Loisirs (Leisure activities) section ! The concept is simple and grants you many benefits : it is a free 'passport' you can get in any partner location or in the tourist offices of the Vosges du Sud. You pay your first visit at the standard price, but you will then get a discount (or other bonuses) in every partner locations, by simply showing the passport.
So do not hesitate to ask for the Passeport at the Tourist Office in Mélisey, Faucogney, or any other partner locations !
The discounts in our area with the Passeport Tourisme & Loisirs :
Electric bike rental at the Tourist Office : 5€ discount
Espace détente of the Domaine de la Patte d'Oie in Mélisey : 5€ discount for an hour long massage
Musée de la Montagne (mountain museum) in Château-Lambert : 3€ instead of 4€
Jardin de la Ferrière in Amont-et-Effreney : 4 adults bundle for 20€ instead of 24€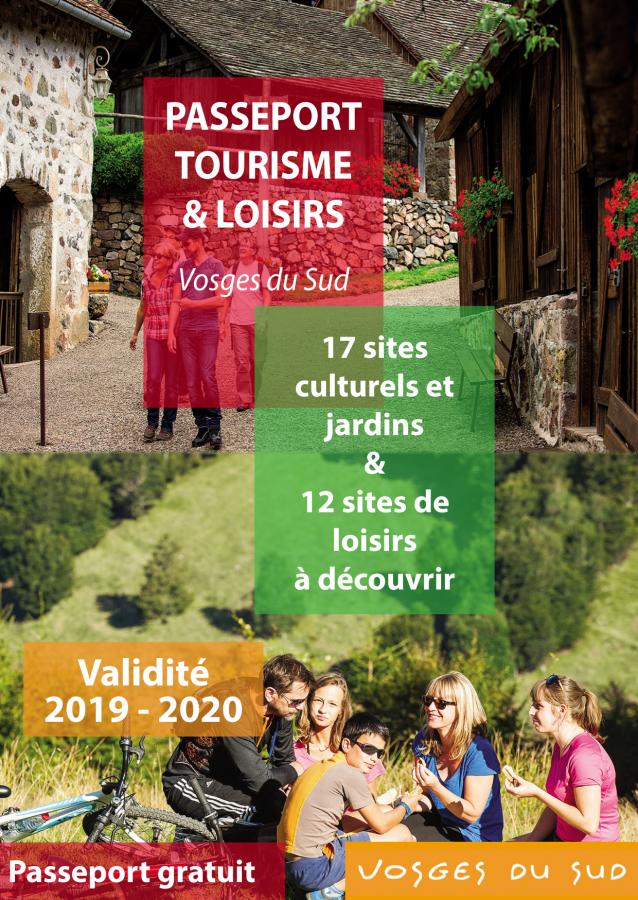 Peruse the Passeport HERE